Skin Issues and Acupuncture (in Anoka)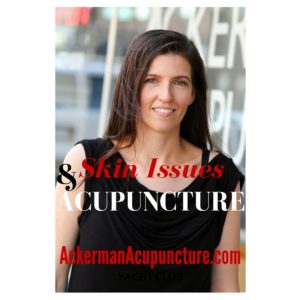 Acne
Acne is often treated by Western medicine by treating topically with chemicals in the form of skin creams.
Acupuncture, on the other hand treats acne and other skin issues by first determining the root cause of the acne.
Acupuncturists ask their patients detailed questions to determine if the root cause is genetic, cyclical, hormonal, seasonal, allergies, etc.
Ackerman Acupuncture looks at food therapy to determine how diet is affecting the health of the skin.
What we place in our bodies internally will eventually manifest externally and this can show in the radiance (or dullness) of our skin.
According to Traditional Chinese Medicine (TCM), acne can be caused by a pattern of excess heat and deficient Yin. In this case, your licensed acupuncturist would use the treatment principle of Clearing Heat (excess evil) in the body and nourishing the Yin dryness (deficiency).
Acupuncturists in Anoka treat each patient as an individual and tailor a treatment plan according to the root cause of the main complaint they are being seen for. Visit the website at http://www.ackermanacupuncture.com/
Dermatitis
Have you been diagnosed with "Dermatitis?" What is Dermatitis? Dermatitis is a general term that means "skin inflammation." It appears as a red, scaly rash and feels itchy.
Diaper rash, dandruff and poison ivy rash are all categorized under Dermatitis.
Dermatitis is an allergic reaction, as are asthma and hay fever. Acupuncture in Anoka helps relieve itching skin, asthma, hay fever and other issues due to allergies.
Could you have Shingles (aka herpes zoster)?
Atopic Dermatitis (aka Eczema)
Atopic Dermatitis (aka Eczema) commonly occurs at an early age. Eczema is usually hereditary.
Contact Dermatitis
Contact Dermatitis happens when skin comes in contact with an irritant, such as harsh laundry detergent with fragrance (or using too much), resulting in skin rash. Rash may be itchy. Once the irritant has been removed, the rash should go away. Could this rash be from Shingles?
Dermatitis Self-Help Tips
Take an oatmeal bath at night (place oats in handkerchief or cheese cloth, tie shut and hang from bath faucet, allowing water to run through). Soak for 20 minutes before bed. Itchy skin often increases at bedtime. This can be the relief you need to fall asleep.
Soak in bath with chamomile tea bag for 20 minutes.
Be sure to moisturize immediately after bathing to lock in moisture.
If Home-Care treatment does not work or eczema worsens, see a doctor.
Rosacea
Rosacea appears as redness on the nose, forehead cheeks and chin.
It is common among fair complexioned people. Most flare-ups occur in cycles. Rosacea can worsen with age. Acupuncture helps with rosacea and red inflammation of the skin by balancing and cooling heat in the body. Call to schedule your free consultation at 763-477-1338 and relax.
Rosacea Triggers:
sun exposure

heat

alcohol,

caffeine

spicy foods

stress
Rosacea Self-Help Tips
Visit a Dermatologist early on
Avoid mid-day sun, wear a wide-brimmed hat & use SPF >15
Decrease/ Avoid alcohol if this triggers your Rosacea
Avoid heat; hot tubs or saunas if this is a trigger
Use gentle, fragrance-free, alcohol-free soap
See a dermatologist at early onset of symptoms.
Left untreated, chronic redness of rosacea can progress to bumpy, enlarged and swollen tissue, usually on the nose.
This is due to constant increased inflammation in the local blood vessels which make these blood vessels more visible.
Dry Skin
Dry skin afflicts many, especially as we age. Exposure to the elements like wind and cold weather dries out sensitive skin quickly. Acupuncture treats skin issues, including dry skin and other dryness issues common around the time of Menopause in Anoka. Harsh chemicals in skin products can aggravate dry skin. So, what can one do?
Dry Skin Self-Care Tips
Drink 8 cups water per day
Add lemon to water (lemon adds moisture)
Eat enough omega-3 fatty acids
Try natural oils for skin moisturizer
-Drinking water hydrates skin from the inside.
-Cold-water fish/ fish oil and flaxseed/ flaxseed oil are necessary to hydrate skin. (Your body CANNOT make these fats).
–Olive oil or Coconut oil are easy alternatives to chemical-laden lotions. Use Extra Virgin Olive Oil or Organic, Un-refined Coconut Oil. *Coconut oil will harden at lower temperatures and then turn liquid again in warmer temperatures.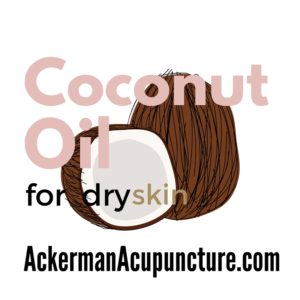 I place my coconut oil in a small jar (canning jar used for jelly) with a plastic reusable jar lid. *If you pack either oil for on-the-go, be sure to place in a sealed bag to protect other belongings in your purse or bag (solid coconut oil will liquefy with heat).
Salves or Ointments are more soothing, without chemical ingredients found in creams.
Calendula has a mild antiseptic action to heal dry, cracked skin.
Calendula salve can help soothe severely inflamed skin.
–If dry skin worsens, becomes chronic or is not improved with Self-Care, see a doctor to rule out other root causes, such as Diabetes.
Ackerman Acupuncture treats many skin issues, including acne, eczema, dermatitis, rosacea, skin rash, heat rash, hives, psoriasis, shingles, and painful, itching skin using modalities such as acupuncture, cupping therapy and TCM diet therapy.
Call 763-477-1338 today to schedule your free consultation to find out if acupuncture is the right fit for you.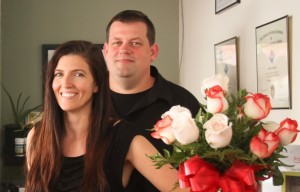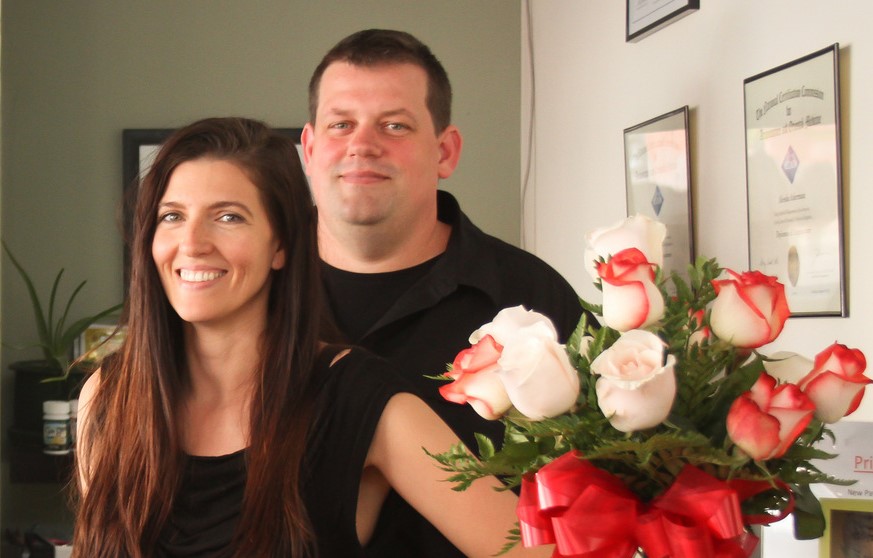 Mike Ackerman, LAc. treats many pain issues, including Sports Injuries, Neck pain, Back pain, Sciatica and Plantar Fasciitis near Maple Grove, MN.
Aleesha Ackerman, LAc. treats headaches, migraines,  Women's issues, Back Pain, hormonal imbalances, skin issues and Hot flashes near Blaine, MN.
Want to see more blog posts like this?
Written by Aleesha Ackerman, LAc.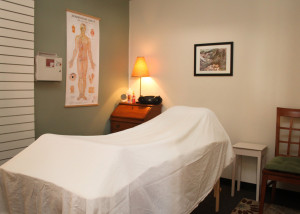 Call 763-477-1338 to schedule a free consultation in private treatment rooms.
Visit Ackerman Acupuncture for Pain Relief & Wellness.
Like us on Facebook to follow us and keep up-to-date.
Watch the Military using acupuncture for Pain Relief
DISCLAIMER
This article is not intended to replace any health care.
No information on this site should be relied on to determine medical diagnosis or treatment for a medical condition. As with any health concerns, always be sure to consult your health care provider with any health concerns.
Licensed Acupuncturists Serving Andover, Anoka, Big Lake, Blaine, Champlin, Coon Rapids, Dayton, East Bethel, Elk River, Fridley, Ham Lake, Isanti, Minneapolis, Now Then, Oak Grove, Maple Grove, Osseo, Saint Francis, Saint Paul, Spring Lake Park and Ramsey, MN 55303.
Zip codes we treat: 55304, 55303, 55309, 55014, 55434, 55449, 55316, 55433, 55448, 55327, 55330, 55432, 55040, 55401, 55402, 55403, 55404, 55406, 55407, 55408, 55409, 55410, 55411, 55412, 55413, 55416, 55418, 55419, 55421, 55422, 55011, 55311, 55369, 55102, 55103, 55104, 55105, 55106, 55107, 55108, 55101, 55109, 55110, 55111, 55113, 55114, 55116, 55117, 55120, 55124, 55125, 55115, 55118, 55119, 55121, 55122, 55123, 55126, 55129, 55130, 55146, 55127, 55128, 55133, 55144, 55145, 55155, 55164, 55165, 55166, 55166, 55168, 55170, 55175, 55187, 55188, 55171, 55172, 55014, 55025, 55371, 55398, 55308, 55960
Serving Anoka County, the north metro and Minneapolis area.