Acupuncture Works for Period Cramps (in Anoka, MN)!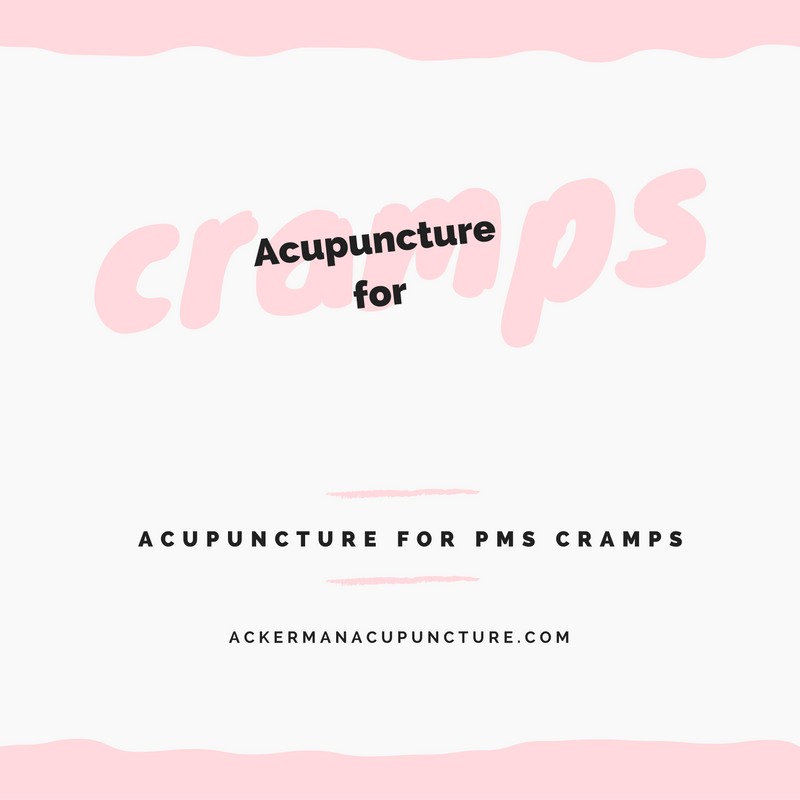 Do You Suffer with Chronic Cramps During Your Period?
Acupuncture is good at treating pre-menstrual syndrome (PMS) by helping your body balance itself to relieve PMS symptoms, including cramping abdominal pain and lower back pain, low energy and fluctuating mood.
PMS Symptoms Acupuncture Treats:
Cramps

Cravings

Heavy period flow, clotting

Irritability
Acupuncture helps with all types of pain, chronic pain, joint pain including knee pain and back pain due to arthritis and other reasons and P.M.S. including dysmenorrhea (period cramps), bloating and moodiness in Anoka.
How Acupuncture Treats Pain: Pain is relieved by stimulating precise points on certain channel pathways (meridians). Stimulation prompts area nerve fibers in the extremities to communicate with the Hypothalamus in the brain and the Pituitary gland (base of skull).
Be sure to see a licensed acupuncturist to ensure the safest treatment.
4 Yoga Poses to Ease Menstrual Cramps
Call to schedule your free consultation today with Ackerman Acupuncture in Anoka at 763-477-1338 and relax in a private treatment room.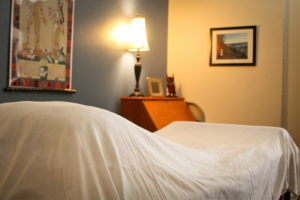 Written by Aleesha Ackerman, LAc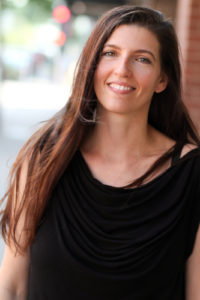 Aleesha Ackerman, LAc specializes in treating stress, Back Pain, headaches, migraines, hormonal imbalances, Fibromyalgia pain, mood swings, mild to moderate depression and anxiety.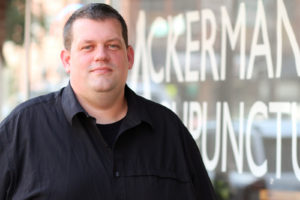 Mike Ackerman, LAc specializes in treating Sports Injury Pain, Foot Pain due to Plantar Fasciitis, Neck pain, Sciatic Pain and Shoulder pain.
Mike and Aleesha Ackerman are a husband and wife team of licensed acupuncturists who are passionate about helping their patients by resolving pain in order to return to a state of wellness.
Want to read more posts like this?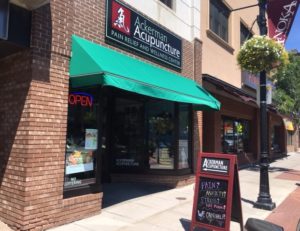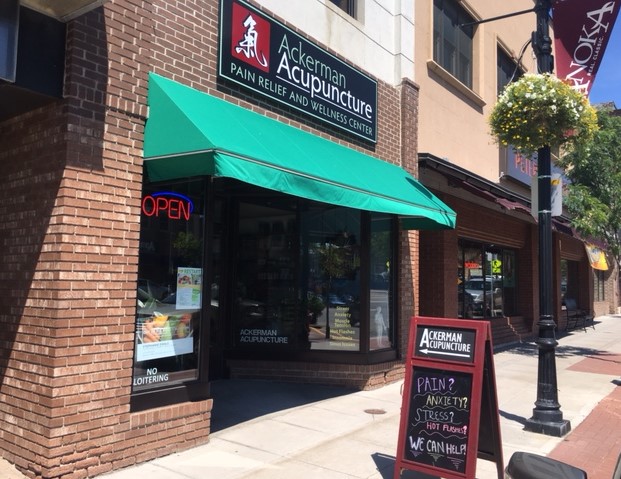 Like us on Facebook to follow updates in our Wellness Clinic.
Schedule your appointment today for Pain Relief and Wellness.
Subscribe to our monthly E-Newsletter for healthy tips, recipes and updates.
We are conveniently located near Highway 10, in downtown Anoka at 207 E. Main Street by the beautiful Mississippi and Rum Rivers.
DISCLAIMER
This article is not intended to replace any health care.
No information on this site should be relied on to determine medical diagnosis or treatment for a medical condition. As with any health concerns, always be sure to consult your health care provider with any health concerns.
Serving Andover, Anoka, Big Lake, Blaine, Champlin, Columbia Heights, Coon Rapids, Dayton, East Bethel, Elk River, Fridley, Ham Lake, Isanti, Minneapolis, Now Then, Oak Grove, Maple Grove, Osseo, Ostego, Saint Francis, Saint Paul, Spring Lake Park and Ramsey, MN 55303.
Zip codes we treat: 55304, 55303, 55309, 55014, 55434, 55449, 55316, 55433, 55448, 55327, 55330, 55432, 55040, 55401, 55402, 55403, 55404, 55406, 55407, 55408, 55409, 55410, 55411, 55412, 55413, 55416, 55418, 55419, 55421, 55422, 55011, 55311, 55369, 55102, 55103, 55104, 55105, 55106, 55107, 55108, 55101, 55109, 55110, 55111, 55113, 55114, 55116, 55117, 55120, 55124, 55125, 55115, 55118, 55119, 55121, 55122, 55123, 55126, 55129, 55130, 55146, 55127, 55128, 55133, 55144, 55145, 55155, 55164, 55165, 55166, 55166, 55168, 55170, 55175, 55187, 55188, 55171, 55172, 55014, 55025, 55371, 55398, 55308, 55960
Serving Anoka County, the north metro and the Minneapolis area.