Acupuncture Treats Carpal Tunnel (near Andover, MN)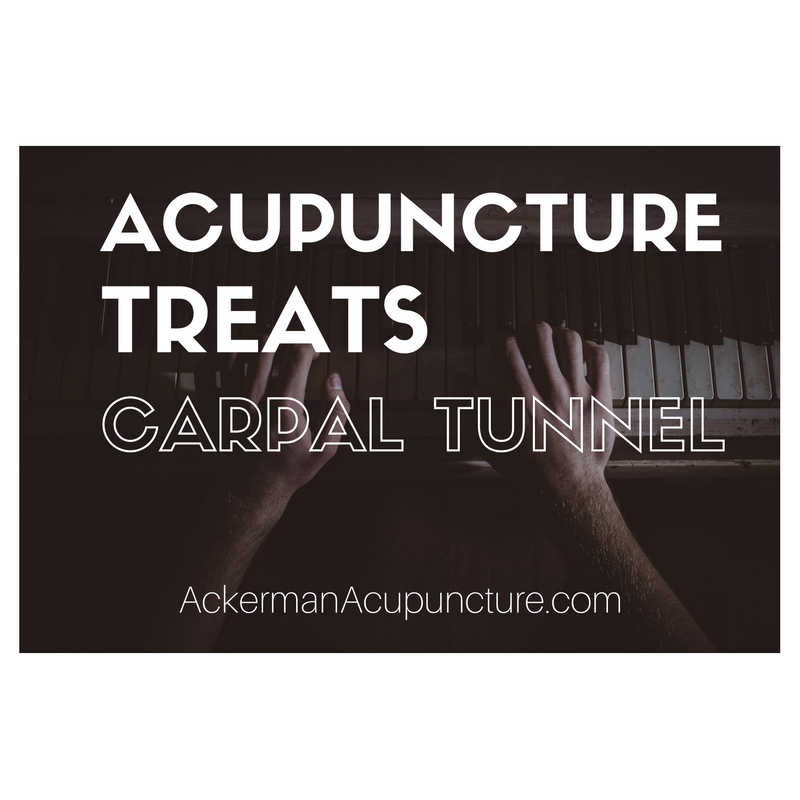 Carpal Tunnel is a common syndrome caused by repetitive stress injury involving the wrist and acupuncture is often used as treatment.
The problem lies with the median nerve when it becomes irritated from overuse. Nerve inflammation results. This nerve is already restricted within the narrow passage called the "carpal tunnel" located in the wrist. Now it is inflamed with swelling within a narrow space.
This swollen nerve becomes compressed. This is also known as a nerve entrapment.
This nerve inflammation results in the sensation of tingling and numbness and sometimes a "pins & needles" sensation felt in wrist, possibly forearm and first four fingers.
Repetitive Stress injury

Nerve entrapment or compression

Tingling and Numbness in wrist, hand, forearm or fingers
Acupuncture is often successful for Carpal Tunnel. However, I recommend a patient look into possible surgery if after a few treatments progress has not been made (to avoid any long-term nerve damage).
Who Gets Carpal Tunnel?
Anyone who repeatedly does certain hand motions over a period of time can end up with Carpal Tunnel Syndrome.
Keyboard typists
Massage Therapists
Painters
Musicians
Menopausal Women
Rheumatoid Arthritis sufferers
Acupuncturists in Anoka treat joint pain due to Osteoarthritis, Rheumatoid Arthritis (R.A.) joint pain, Juvenile Arthritis joint pain and bone pain of the hip, back pain and knee pain. 
Home Care Tips
Alternate cold and warm
Avoid repetitive overuse activities which led to carpal tunnel
Stretching exercises for carpals 3 times daily
Keep area dry and warm
(Protecting hands from water with gloves while washing dishes and from cold weather)-good for those with Rheumatoid Arthritis as well.
Supplements
Fish oil (check with your doctor 1st if taking a blood thinner)
Glucosamine Chondroitin supplement
Turmeric (I use spice powder added to tea)
Turmeric is an inexpensive and easy way to supplement an inflammation fighter into your daily diet. Sprinkle over food or add to tea. I drink mine whisked into a ginger tea or into my coconut milk in a cooking pot-it makes a beautiful jewel colored latte-like beverage!
Acupuncture treats Repetitive Stress Injury from overuse due to repetitive hand motions like Carpal Tunnel or Trigger Finger in Anoka.
Read Don't Get Stuck with Trigger Finger Here
Written by Aleesha Ackerman, LAc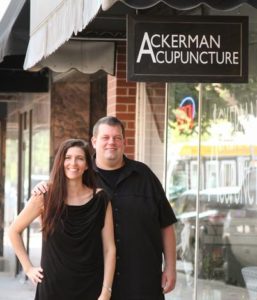 Aleesha Ackerman is a licensed acupuncturist who specializes in treating chronic pain such as Arthritis Pain, Fibromyalgia and Headaches/ Migraines, Back pain as well as Anxiety and Menopausal issues like Hot flashes and Insomnia. She has treated her fair share of Carpal Tunnel and Trigger Finger due to overuse with success.
Mike Ackerman is a licensed acupuncturist who specializes in treating Sports Injury and Pain, Neck Pain, Foot and heel Pain, Plantar Fasciitis, Sciatica Pain of the back and legs and Shoulder Pain.
Like us on Facebook to follow updates in our Wellness Clinic.

Schedule your appointment today for Pain Relief and Wellness.

Subscribe -monthly E-Newsletter of healthy tips, recipes and updates.
DISCLAIMER
This article is not intended to replace any health care.
No information on this site should be relied on to determine medical diagnosis or treatment for a medical condition. As with any health concerns, always be sure to consult your health care provider with any health concerns.
Serving Andover, Anoka, Big Lake, Blaine, Champlin, Columbia Heights, Coon Rapids, Dayton, East Bethel, Elk River, Fridley, Ham Lake, Isanti, Minneapolis, Now Then, Oak Grove, Maple Grove, Osseo, Ostego, Saint Francis, Saint Paul, Spring Lake Park and Ramsey, MN 55303.
Zip codes we treat: 55304, 55303, 55309, 55014, 55434, 55449, 55316, 55433, 55448, 55327, 55330, 55432, 55040, 55401, 55402, 55403, 55404, 55406, 55407, 55408, 55409, 55410, 55411, 55412, 55413, 55416, 55418, 55419, 55421, 55422, 55011, 55311, 55369, 55102, 55103, 55104, 55105, 55106, 55107, 55108, 55101, 55109, 55110, 55111, 55113, 55114, 55116, 55117, 55120, 55124, 55125, 55115, 55118, 55119, 55121, 55122, 55123, 55126, 55129, 55130, 55146, 55127, 55128, 55133, 55144, 55145, 55155, 55164, 55165, 55166, 55166, 55168, 55170, 55175, 55187, 55188, 55171, 55172, 55014, 55025, 55371, 55398, 55308, 55960
Serving Anoka County, the north metro and the Minneapolis area.