Get More Energy and Balanced Mood For the New Year (near Andover, MN)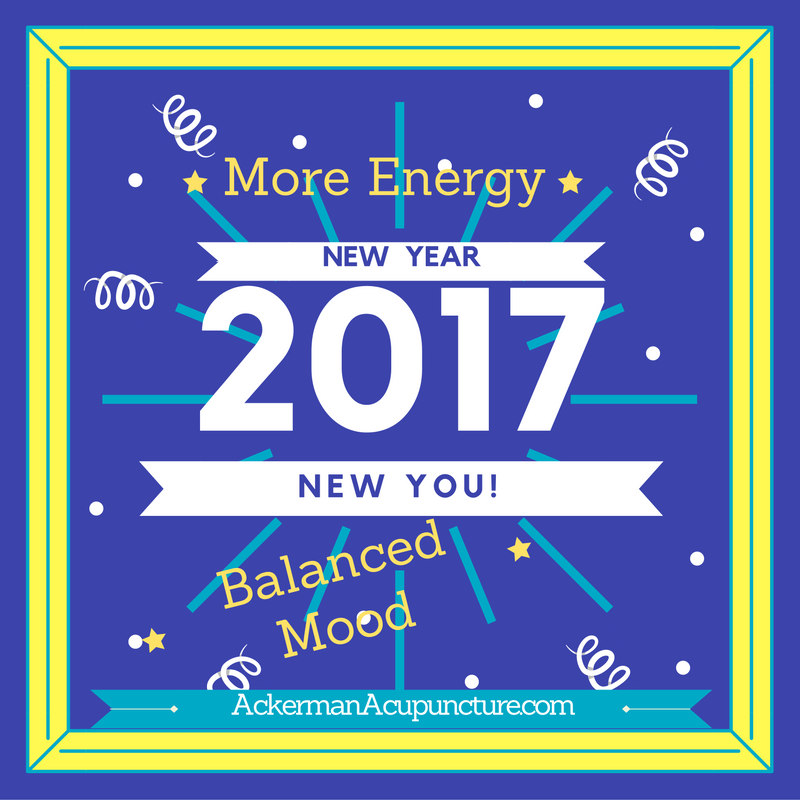 Are you finding yourself feeling sluggish with Low Energy?
Acupuncture treats fatigue and exhaustion by helping your body balance itself to increase energy.
Acupuncture for Adrenal Fatigue

Acupuncture for Exhaustion

Acupuncture for Thyroid Imbalance/ Auto-Immune Disease
How Acupuncture Works (Science) to Treat Hormonal Imbalance
Do You Suffer with Mood Imbalance?
Acupuncture Can Help!
Acupuncture Treats Mood Imbalance with:
Acupuncture for ADHD or ADD
Acupuncture is a medical therapy that treats Attention Deficit Disorder, mild to moderate Depression, Anxiety and Seasonal Affective Disorder in Anoka, MN.
Do You Suffer with Fatigue and Muscle Aches?
Acupuncture for Fibromyalgia

Acupuncture for Muscle Tension Pain
Acupuncture for Headaches
Acupuncture therapy helps with Chronic Fatigue Syndrome (CFS) .

Call (763) 477-1338 to Schedule Today.

Like us on Facebook to keep up-to-date on events.
Written by Aleesha Ackerman, LAc
Read more posts like this one Here
Aleesha Ackerman, LAc. helps patients balance mood and increase energy using Acupuncture and Traditional Chinese Medicine (TCM) food therapy.  She helps many women through Menopause and perimenopause by helping relieve Hot flashes and other common symptoms so they can return to balance and relax.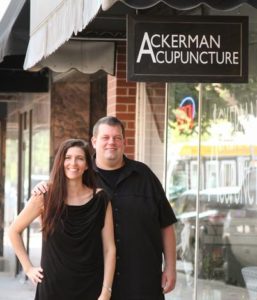 Mike Ackerman, LAc. Specializes in many Pain issues, including Back pain, Neck pain and Shoulder pain, Sports Injuries, Sciatica and Plantar Fasciitis near Andover, MN.
Acupuncture is part of TCM which treats each individual. This means that if one patient presents with a headache, there will be different acupuncture points used. This is because though each feels a headache, there are different root causes for the headaches with each individual.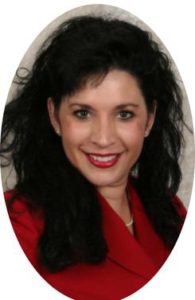 Marie Forrest is a licensed and certified massage therapist who specializes in many massage styles, including Hot Stone massage and Reiki Energy Work.
Ackerman Acupuncture is conveniently located at 207 E Main Street, in historic downtown Anoka, accessible from the city of Andover from Highway 10, Highway 169 (Ferry Street, St Francis Blvd) and Bunker Lake Blvd.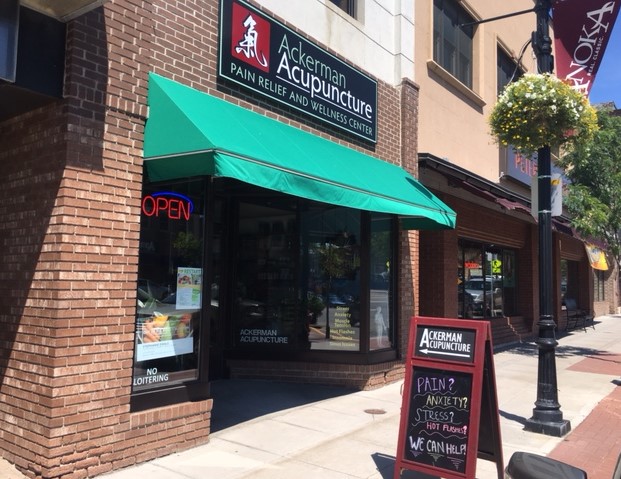 DISCLAIMER
This article is not intended to replace any health care.
No information on this site should be relied on to determine medical diagnosis or treatment for a medical condition. As with any health concerns, always be sure to consult your health care provider with any health concerns.
Serving Andover, Anoka, Big Lake, Blaine, Buffalo, Champlin, Columbia Heights, Coon Rapids, Dayton, Eagan, East Bethel, Elk River, Fridley, Ham Lake, Isanti, Minneapolis, Now Then, Oak Grove, Maple Grove, Osseo, Ostego, Saint Francis, Saint Paul, Spring Lake Park, Zimmerman and Ramsey MN 55303.
Zip codes we treat: 55304, 55303, 55309, 55014, 55434, 55449, 55316, 55433, 55448, 55327, 55330, 55432, 55040, 55401, 55402, 55403, 55404, 55406, 55407, 55408, 55409, 55410, 55411, 55412, 55413, 55416, 55418, 55419, 55421, 55422, 55011, 55311, 55369, 55102, 55103, 55104, 55105, 55106, 55107, 55108, 55101, 55109, 55110, 55111, 55113, 55114, 55116, 55117, 55120, 55124, 55125, 55115, 55118, 55119, 55121, 55122, 55123, 55126, 55129, 55130, 55146, 55127, 55128, 55133, 55144, 55145, 55155, 55164, 55165, 55166, 55166, 55168, 55170, 55175, 55187, 55188, 55171, 55172, 55014, 55025, 55371, 55398, 55308, 55960
Serving Anoka County, the north metro and the Minneapolis area.