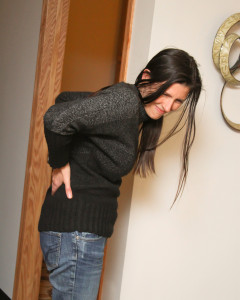 Back pain is one of the top three things we successfully treat and includes low back pain, mid back pain, and upper back pain.
Lumbar or lower back pain is the most common back pain we treat. Ackerman Acupuncture in Anoka has seen patients with back pain who are scheduled to have back surgery, only to cancel their back surgery appointments, after four to six acupuncture treatments.
What You Can Do
     Exercise
Walking is great exercise and helps keep the lower back strong by strengthening the legs. Think of strong legs as the foundation which supports the back.
Weight control
Keeping your core area tight and strong will also help. Staying within optimal weight range helps avoid added stress to your lower back.
 Control waist measurement
Keeping your waist measurement and weight down, decreases back strain and…healthy waist girth can also help avoid heart disease, According to the American Heart Association. For women waist measurement should be less than 35 inches; less than 40 inches around for men. See link with more information from Harvard. edu: http://www.hsph.harvard.edu/obesity-prevention-source/obesity-definition/abdominal-obesity/
There are many stretches you can do at home to help ease and prevent back pain. Here is a link on 7 Stretches for Low Back Pain Relief: http://simpleorganiclife.org/7-stretches/
Types of Back Pain we Treat
The acupuncturists here in Anoka treat all back pain including acute back pain, chronic back pain, muscle spasm, back pain from orthopedic back pain, osteoporosis back pain, osteoarthritis back pain, arthritis/ arthritic back pain, degenerative arthritis back pain, disc injury, slipped disc, bulged disc, herniated disc, back pain due to congenital spine disorders like spina bifida or scoliosis, spinal stenosis or narrowing of spinal canal and other spine or spinal disorders.
Free Acupuncture Consultation in Anoka
Call Ackerman Acupuncture today to schedule your free consultation to find out if acupuncture is the right fit for you.
Written by Aleesha Ackerman, L Ac.
Call us at 763-477-1338
E-mail at [email protected]
Visit website at ackermanacupuncture.com
DISCLAIMER
This article is not intended to replace any health care.
No information on this site should be relied on to determine medical diagnosis or treatment for a medical condition. As with any health concerns, always be sure to consult your health care provider with any health concerns.