Stop Hot Flashes, Insomnia and Anxiety (in Anoka)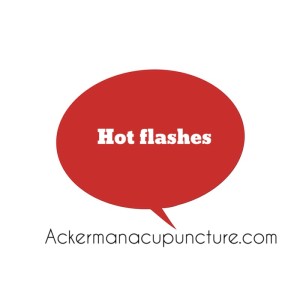 How Acupuncture Treats Hot Flashes due to Menopause…
Watch Mayo Clinic Successfully Treating Hot Flashes with Acupuncture (scroll down the page to watch video)…
Got Hot Flashes?
If You Answer Yes to these, You PROBABLY have Hot flashes:
Q: Face Red & Flushed?
Face flushing red more easily when stressed or flustered?
Q: Feel Hotter Lately?
Needing to wear less clothing now than others?
Turning down the thermostat?
Using a fan at work or by the bed?
"Fanning" yourself lately?
Q: Anxiety?
Are you experiencing new or increased anxiety in social situations?
Q: Sweating?
Night sweats and/ or day sweats increasing?
Profuse and/ or frequent sweating?
Sweating made worse with anxiety lately?
Q: Insomnia?
Kicking the blankets off at night due to over-heating or night sweats?
Can't Sleep without the FAN?
Having to Change the Sheets (or P.J.'s)?
Q: Heart Palpitations?
Often heart palpitations accompany hot flashes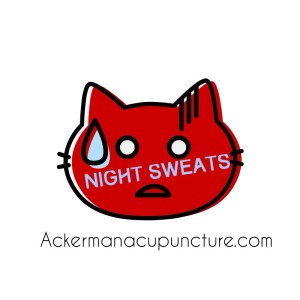 Ackerman Acupuncture treats Anxiety and PTSD.
When to See a Doctor:
Chest pain
Fainting
Severe Dizziness
Severe Shortness of Breath
Could it just be Anxiety? Link from National Institute of Health (NIH) on General Anxiety Disorder…  http://www.nimh.nih.gov/health/topics/generalized-anxiety-disorder-gad/index.shtml
Have you ever experienced a sudden traumatic event in Coon Rapids? Could it be Post Traumatic Stress Disorder?  Link on PTSD from the Veterans Affairs (V.A.) http://www.ptsd.va.gov/public/index.asp
Q: Are you in Menopause or Perimenopause?
Menopause is defined as having no period for 12 consecutive months
Perimenopause is a transition before menopause (varies woman to woman)
Acupuncture and TCM Diet will help relieve Hot Flashes in Anoka.
Q: Do You Have a Thyroid Issue or Thyroid Disease (Hyper/Hypothyroidism)?
Women with Thyroid issues can have heightened menopause symptoms
Aleesha Ackerman specializes and enjoys helping women with Thyroid issues, Hot flashes,

Fertility

, Polycystic Ovary Syndrome (PCOS) and other hormone-balancing issues at Ackerman Acupuncture in Anoka. She has also treated Men's Issues such as, Erectile Dysfunction in Anoka.
(Link to Expert Resource on Food & Hypothyroidism) http://www.outofthewoodsnutrition.com/blog/?category=Thyroid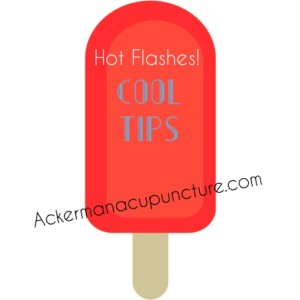 8 Tips to Help Hot Flashes:
Remove junk food: processed, packaged, fast food, most restaurant & fried
Replace junk food with whole foods and high density foods http://www.drweil.com/drw/u/QAA401127/Should-You-Consider-Nutrient-Density-in-Choosing-Foods.html
Get Acupuncture Treatments!
Try removing alcohol
Remove coffee/ caffeinated soda from diet. Link on Mayo Clinic Research of Caffeine & Hot Flashes http://www.mayoclinic.org/diseases-conditions/menopause/expert-answers/menopause-symptoms-caffeine/faq-20119077
(Replace coffee with green tea-it's COOLING)!
Remove sugar (increases inflammation)
Addicted to Sugar? Think You Could NEVER Give it Up?
Ever Want to Just Hit the Restart Button? Link to Sugar Detox Class http://www.outofthewoodsnutrition.com/restart/
Remove wheat (increases inflammation)
What?— You CAN'T? —You LOVE bread?!…
Links from Experts on WHY & HOW to … Defeat Wheat! http://www.outofthewoodsnutrition.com/blog/?category=Thyroid
 http://www.wheatbellyblog.com/ 
MEDITATE! Read blog on Mindfulness Meditation https://blog.ackermanacupuncture.com/2015/12/how-to-meditate-your-way-to-mindfulness-in-anoka/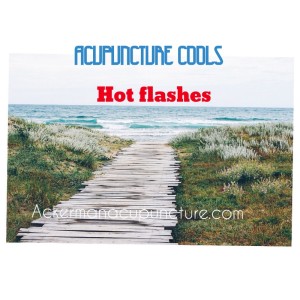 Serving Andover, Anoka, Blaine, Champlin, Coon Rapids, Dayton, Elk River, Now Then, Oak Grove, Maple Grove, Osseo and Ramsey.
Serving Anoka County and Minneapolis area.
Visit Ackerman Acupuncture for Pain Relief & Wellness.
Feel free to discuss any questions you may have at your free acupuncture consultation. Call to schedule your free consultation at 763-477-1338 and relax.
Written by Aleesha Ackerman, Lac.
Call today to make an appointment at 763-477-1338
To see more blog posts like this visit: http://www.ackermanacupuncture.com/blog.html
Like us on Facebook to follow us and keep up-to-date
Visit the website at http://www.ackermanacupuncture.com/
DISCLAIMER
This article is not intended to replace any health care.
No information on this site should be relied on to determine medical diagnosis or treatment for a medical condition. As with any health concerns, always be sure to consult your health care provider with any health concerns.