Did You Know Bells Palsy Improves with Acupuncture (in Anoka)?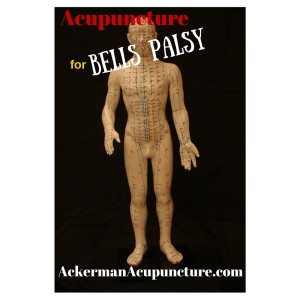 Yes, it's true! Many are unaware that acupuncture is great for treating Bells Palsy.
The sooner the patient gets in, the better.
Acupuncture can help, especially in the acute stage of Bells Palsy.
When facial nerve has inflammation or damage, facial weakness and paralysis may suddenly appear. Usually this is seen and felt on only one side of the face. Rarely, both sides are affected.
Motor function (or voluntary movement of the face) is affected with Bells Palsy, causing loose facial muscles.
Symptoms
Eyelid droop
Mouth droop
Difficulty with:

Closing Eye
Raising Eyebrow
Smile
Taste
Drinking (dribbling from corner of mouth)
Where on the Body is Acupuncture Administered?
Acupuncturists can help Bells Palsy using scalp points, facial points, distal points (hands/ feet/ legs/ arms).
Techniques are also used to help stimulate the face after Bells Palsy.
What Does Acupuncture Do?
Chinese Medicine treats Bells Palsy using acupuncture by treating the patient's individual pattern.
This enables acupuncturists to treat the root cause and not just the symptoms seen.
At Ackerman Acupuncture, multiple modalities are used and patients with Bells Palsy regain lost motor functions of the face.
How Many Treatments?
Patients should expect to be treated with acupuncture 2-3 times per week until symptoms diminish.  As with any condition, the sooner the patient is treated with acupuncture, the better the outcome.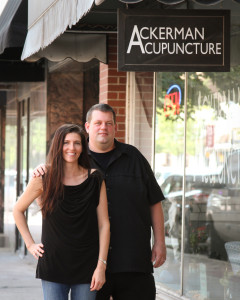 Mike Ackerman, LAc. treats many pain issues, including Sports Injuries, Back pain, Sciatica and Plantar Fasciitis near Andover, MN.
Aleesha Ackerman, LAc. treats patients with headaches, migraines, weight issues, Women's issues, digestion problems, Back Pain, hormonal imbalances like Thyroid Disease and Hot flashes near Ramsey, MN.
Acupuncture is great for treating all types of Pain, including Joint pain, inflammation, Headaches and migraines.
Written by Aleesha Ackerman, LAc.
Want to see more blog posts like this? 
Visit Ackerman Acupuncture for Pain Relief & Wellness.
Call to schedule your free consultation at 763-477-1338 and relax.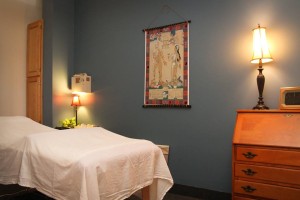 Feel free to discuss any questions. Call to schedule your free consultation at 763-477-1338 and relax in our private treatment rooms near Andover, MN.
Like us on Facebook to follow us and keep up-to-date.
Visit the website at http://www.ackermanacupuncture.com/
DISCLAIMER
This article is not intended to replace any health care.
No information on this site should be relied on to determine medical diagnosis or treatment for a medical condition. As with any health concerns, always be sure to consult your health care provider with any health concerns.
Licensed Acupuncturists Serving Andover, Anoka, Big Lake, Blaine, Champlin, Coon Rapids, Dayton, East Bethel, Elk River, Fridley, Ham Lake, Isanti, Minneapolis, Now Then, Oak Grove, Maple Grove, Osseo, Saint Francis, Saint Paul, Spring Lake Park and Ramsey, MN 55303.
Zip codes we treat: 55304, 55303, 55309, 55014, 55434, 55449, 55316, 55433, 55448, 55327, 55330, 55432, 55040, 55401, 55402, 55403, 55404, 55406, 55407, 55408, 55409, 55410, 55411, 55412, 55413, 55416, 55418, 55419, 55421, 55422, 55011, 55311, 55369, 55102, 55103, 55104, 55105, 55106, 55107, 55108, 55101, 55109, 55110, 55111, 55113, 55114, 55116, 55117, 55120, 55124, 55125, 55115, 55118, 55119, 55121, 55122, 55123, 55126, 55129, 55130, 55146, 55127, 55128, 55133, 55144, 55145, 55155, 55164, 55165, 55166, 55166, 55168, 55170, 55175, 55187, 55188, 55171, 55172, 55014, 55025, 55371, 55398, 55308, 55960
Serving Anoka County, the north metro and Minneapolis area.