Feeling Tired and Weak with Cold Hands and Feet (in Anoka)?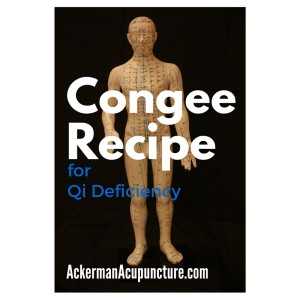 You may have Qi Deficiency
According to Traditional Chinese Medicine (TCM), feeling tired with weakness, cold extremities, low appetite, and shortness of breath, loose stool and frequent urination are symptoms of Qi Deficiency.
What is Qi and what is Qi Deficiency?
In TCM, Qi is what refers to energy or your life force. Once weakened, commonly by insufficient diet and poor lifestyle, your Qi becomes deficient. Qi Deficiency manifests as weakened energy which eventually leads to…
Qi Deficiency Symptoms
Fatigue
Lethargy
Loose stool
Decreased appetite
Cold extremities
Shortness of breath
Frequent urination
Lifestyle Tips
Walking
Get Acupuncture
Avoid over-working
Avoid over-thinking
Get extra sleep & rest
Yoga (choose an easy-going, low-impact style)
Replace energy-draining foods with Qi-building Foods
(See your Primary Care Physician if you have unexplained fatigue which is severe to rule out thyroid or other health issues)
TCM Diet (for Qi Deficiency)
Eat smaller, more frequent meals. Eat mostly grains, cooked vegetables and legumes. Smaller amounts of meat and dairy may be added. Meat takes more energy to digest and eating less meat can conserve energy.  Most Westerners are overdosing on animal flesh and animal proteins.
This Western diet catches up to most of us by middle age. Qi deficiency is often seen at this time and shows up as feeling tired with slow and weak digestion in Anoka (bloating after eating or feeling tired after eating). Digestion may become so imbalanced that stool becomes loose with frequent diarrhea.
Diet Tips (for Qi Deficiency)
Add:

Steamed vegetables

Carrots

Pumpkin

Garlic

Leeks

Sesame seeds (white or black)

Sunflower seeds

Rice congee (see Recipe below)

Chicken stock (add to congee)

Avoid/ Decrease:

Raw vegetables, Salad

Fruits

Juice

Dairy (if sensitive to)

Wheat

Ice cream/cold food or drink before bed (if frequent urination is waking you up)

Processed food

Greasy, oily, fried food

Refined sugar
Replace raw vegetables with steamed vegetables
Steamed carrots & baked pumpkin aids digestion
Avoid salads (or) Add a balsamic vinegar/apple cider vinegar
Try eliminating Dairy & Wheat for 3 Weeks
Pungent flavors like garlic and onion help
Raw vegetables, especially cruciferous ones like broccoli and cauliflower can be very difficult to digest without cooking. Steaming is a good way to help digest them, while keeping nutritious enzymes intact that may be lost with boiling.
Salads can be "chemically" cooked with some type of vinegar. Try balsamic vinegar, apple cider vinegar or… hold onto an un-finished bottle of wine … after a couple of weeks (corked) wine becomes wine vinegar! (Easy, inexpensive and no-waste).
Ackerman Acupuncture in Anoka treats Qi Deficiency using acupuncture and TCM food therapy by going over foods to avoid and foods to add to diet to increase energy and circulation and balance hormones and digestion, in order to help regulate metabolism for issues like weight gain and food cravings.
Add dairy or wheat back in (one at a time)…
How do you feel when you re-introduce it? … Tired? Weak? Bloated? Joints Aching? … This will help you decide what can stay in the diet and what has to go!
What is Congee?
          Congee is an easy-to-make porridge-like recipe of over-cooked rice. Congee is used to sort of kick-start sluggish energy and digestion or in TCM, to "Tonify" Qi. Chicken stock can be added in place of water for even more energy.
This works great for a small child with a low appetite and low body weight!
Congee Recipe:
Ingredients:
¼ C uncooked short grain white rice
1 ½ -2 C water or Chicken stock
Optional: Add 3 jujube dates and/or a 1" slice of fresh ginger (before cooking)
*Wash ginger well & Leave skin on (antioxidants are in the skin)
Add (optional): After cooking, add small amount of quality (local) honey or (Black Strap un-sulfured) molasses can be added for a touch of sweetness (remember molasses tastes 10x sweeter than sugar).
Directions: Crock pot:
Place all in the crock pot, cover and set to "low." Cook overnight. Eat right away the next morning. Serve hot.
Directions: Stove top:
Place all into a pot. Bring to boil, cover and reduce heat to lowest setting. Simmer 1-2 hours. Add water or stock as needed. Do NOT stir. Serve hot.
Directions: Rice cooker:
Cook rice and water or stock according to rice cooker directions. Serve and eat hot.
Summary:
According to TCM, Qi or your life force energy becomes weakened by poor lifestyle. Once weakened, you are considered Qi Deficient.
Signs you have a Qi Deficiency include: feeling tired, poor digestion, cold hands/feet, poor appetite and loose stool.
Eat Qi-building foods like steamed vegetables and easily digested grains (avoid wheat). Avoid Qi-draining foods like oily, greasy, sugar-laden food. Congee is a useful food to build Qi energy and improve digestion.
Acupuncture treatment along with diet therapy and lifestyle changes like light to moderate exercise are useful for increasing energy, improving digestion and balancing hormones near Andover, MN.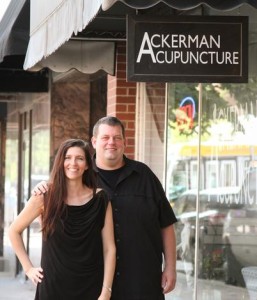 Aleesha Ackerman, LAc helps patients balance mood and increase energy using acupuncture treatment and Traditional Chinese Medicine (TCM) food therapy.  She helps many women during menopause and perimenopause by helping relieve hot flashes and other common symptoms so they may return to balance and relax.
Mike Ackerman, LAc. treats many pain issues, including Back pain, Neck pain, Shoulder pain, Sports Injuries, Sciatica and Plantar Fasciitis near Coon Rapids, MN.
Are You ready to commit to your health and wellness?
Call Ackerman Acupuncture in Anoka today for your free consultation at
763-477-1338
Written by Aleesha Ackerman, LAc.
To see more blog posts like this visit: http://www.ackermanacupuncture.com/blog.html
Like us on Facebook (to follow us and keep up-to-date).
Visit the website at http://www.ackermanacupuncture.com/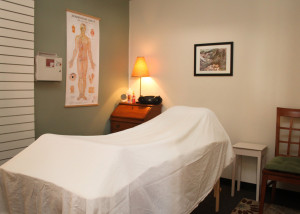 Relax during acupuncture in private treatment rooms in Anoka
 Visit Ackerman Acupuncture in Anoka for Pain Relief and Wellness – and Relax
Ackerman Acupuncture treats Anxiety, Mood Disorder, Insomnia, Low Appetite, Food Cravings, along with digestive issues, Low Energy, Low libido (low sex drive) and all pain issues near Blaine, MN.
Licensed Acupuncturists Serving Andover, Anoka, Big Lake, Blaine, Champlin, Coon Rapids, Dayton, East Bethel, Elk River, Fridley, Ham Lake, Isanti, Minneapolis, Now Then, Oak Grove, Maple Grove, Osseo, Saint Francis, Saint Paul, Spring Lake Park and Ramsey, MN 55303.
Zip codes we treat: 55304, 55303, 55309, 55014, 55434, 55449, 55316, 55433, 55448, 55327, 55330, 55432, 55040, 55401, 55402, 55403, 55404, 55406, 55407, 55408, 55409, 55410, 55411, 55412, 55413, 55416, 55418, 55419, 55421, 55422, 55011, 55311, 55369, 55102, 55103, 55104, 55105, 55106, 55107, 55108, 55101, 55109, 55110, 55111, 55113, 55114, 55116, 55117, 55120, 55124, 55125, 55115, 55118, 55119, 55121, 55122, 55123, 55126, 55129, 55130, 55146, 55127, 55128, 55133, 55144, 55145, 55155, 55164, 55165, 55166, 55166, 55168, 55170, 55175, 55187, 55188, 55171, 55172, 55014, 55025, 55371, 55398, 55308, 55960
Serving Anoka County, the north metro and Minneapolis area.
DISCLAIMER
This article is not intended to replace any health care.
No information on this site should be relied on to determine medical diagnosis or treatment for a medical condition. As with any health concerns, always be sure to consult your healthcare provider with any health concerns.