Tips to Help Shin Splints at Ackerman Acupuncture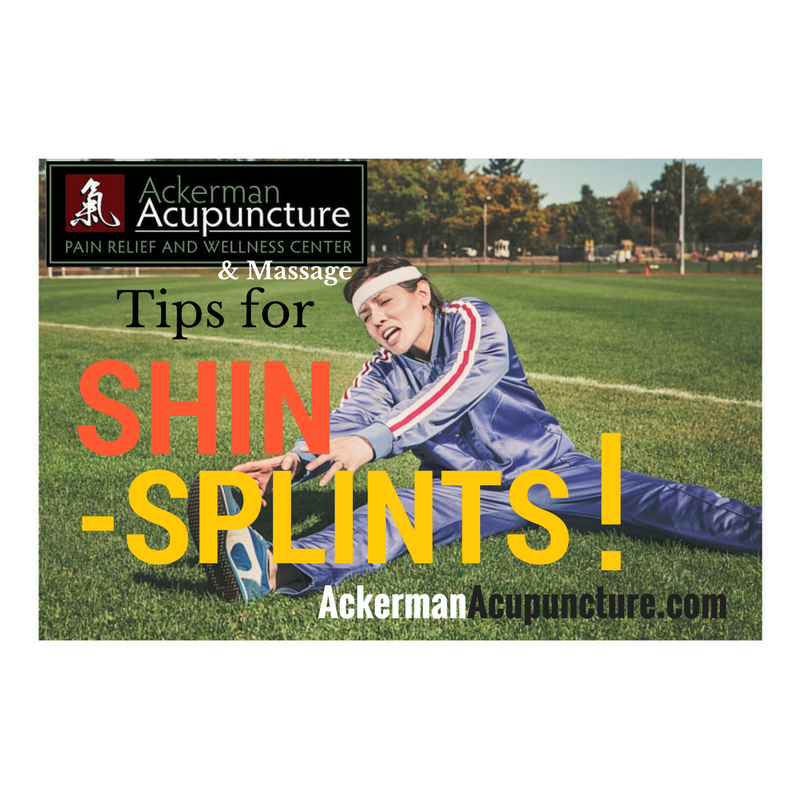 Tips to Help Shin Splints at Ackerman Acupuncture
What are Shin Splints?
Shin splints are small tears in the lower leg muscles where muscles attach to the shin. Swelling and Inflammation occur here in lower legs:
In my junior year of High School, I took up distance running in track. While excelling at winning the 2-mile race time and time again and quickly lettering,  I was not pacing myself and increased my mileage from 2-miles to 8-miles daily (quite literally overnight)- as you can guess "Shin Splints" was my other prize. 
While I managed through races by icing my shins and taking over-the-counter pain relievers every 4-hours before and after races, this is not recommended. Time is required to heal and the Rule for increasing mileage should be followed *(read further for Runner's Magazine Percentage Rule)
If you are a Runner like me, avoid suffering from Shin splints & the restless energy that comes from not being able to Run!
Cause of Shin Splints:
Over-use Sports Injury or Repetitive Stress Injury (Common in Runners).
Signs/ Symptoms of Shin Splints:
Pain in front of lower legs, usually worse with walking/ running

Pain is usually bilateral (both legs)

Better with rest and icing (if not, see a doctor)
Tips to Avoid/ Recover From Shin Splints:
Stretch Calf Muscles Before and After Workouts
Increase Running or Walking Distance Slowly
Runners World RULE on Safely Increasing Mileage Distance Running
How Acupuncture Treats Shin Splints (near Andover, MN):
Acupuncture prompts the body to release pain-relieving biochemicals.

Acupuncture decreases Inflammation

Acupuncture Improves Recovery Time
Call 763-477-1338 to make your appointment today with one of our Licensed Acupuncturists who are specially trained practitioners with a 4-year Master degree in Acupuncture.
Ackerman Acupuncture acupuncturists are licensed through the Minnesota Board of Medical Practice.
Acupuncture in Anoka is done by licensed acupuncturists also nationally certified by the National Commission Certification of Acupuncture and Oriental Medicine (NCCAOM).
Written by Aleesha Ackerman, LAc
Aleesha Ackerman, LAc owns and operates Ackerman Acupuncture with her husband Mike Ackerman, LAc on Main Street in the historic downtown Anoka, right off the Mississippi River and Rum River.
Aleesha Ackerman specializes in treating mostly women seeking more energy and a more balanced mood and helps with hormonal issues occurring around Menopause and Perimenopause, including Hot Flashes and Anxiety.
Mike Ackerman specializes in treating Sports Injury and Pain, including overuse injuries such as Sciatic Pain, Shin Splints causing pain in lower fronts of legs, Back Pain,  Rotator Cuff Injury or Frozen Shoulder causing Shoulder Pain.
Marie Forrest is a licensed and certified Massage Therapist who also does Energy Work, including Reiki and is trained as a Reiki Master.
Want to read more posts like this?
Subscribe to our monthly E-Newsletter for healthy tips, recipes and updates.
Like us on Facebook to follow updates in our Wellness Clinic.
Schedule your appointment today for Pain Relief and Wellness.
Thank You
DISCLAIMER
This article is not intended to replace any health care. Reiki is not a substitute for conventional medicine.
No information on this site should be relied on to determine medical diagnosis or treatment for a medical condition. As with any health concerns, always be sure to consult your health care provider with any health concerns.
Serving Andover, Anoka, Big Lake, Blaine, Buffalo, Champlin, Columbia Heights, Coon Rapids, Dayton, Eagan, East Bethel, Elk River, Fridley, Ham Lake, Isanti, Minneapolis, Now Then, Oak Grove, Maple Grove, Osseo, Ostego, Saint Francis, Saint Paul, Spring Lake Park and Ramsey, MN 55303.
Zip codes we treat: 55304, 55303, 55309, 55014, 55434, 55449, 55316, 55433, 55448, 55327, 55330, 55432, 55040, 55401, 55402, 55403, 55404, 55406, 55407, 55408, 55409, 55410, 55411, 55412, 55413, 55416, 55418, 55419, 55421, 55422, 55011, 55311, 55369, 55102, 55103, 55104, 55105, 55106, 55107, 55108, 55101, 55109, 55110, 55111, 55113, 55114, 55116, 55117, 55120, 55124, 55125, 55115, 55118, 55119, 55121, 55122, 55123, 55126, 55129, 55130, 55146, 55127, 55128, 55133, 55144, 55145, 55155, 55164, 55165, 55166, 55166, 55168, 55170, 55175, 55187, 55188, 55171, 55172, 55014, 55025, 55371, 55398, 55308, 55960
Serving Anoka County, the north metro and the Minneapolis area.